PUMP MORE MILK,
HANDS FREE.
PUMP MORE MILK,
HANDS FREE.
the first hands-free pumping bra with automated breast massage, that's proven to help produce more milk and maintain milk supply.
The first hands-free pumping bra with automated breast massage.
The Lilu Massage Bra is the first hands-free pumping bra with automated breast massage.

motherhood is special, but it isn't always easy
In fact, motherhood can be stressful, exhausting, painful, and confusing. That's why at Lilu we are building smart products especially designed to make mom's lives easier.
We created the Lilu Massage Bra to help moms continue to provide milk for their babies, even when leading busy, multifaceted lives. Being away from their baby and having to pump is hard enough.
The Lilu Bra helps makes pumping easier and more efficient, so that moms can continue their breastfeeding relationship for as long as they want to.
The first version sold out amidst the pandemic and the incredible challenges facing new moms, and Lilu is announcing the launch of the new generation of their product line.
---
"A BREASTFEEDING SAVIOR"
For PR inquiries, please reach out to maria@wearlilu.com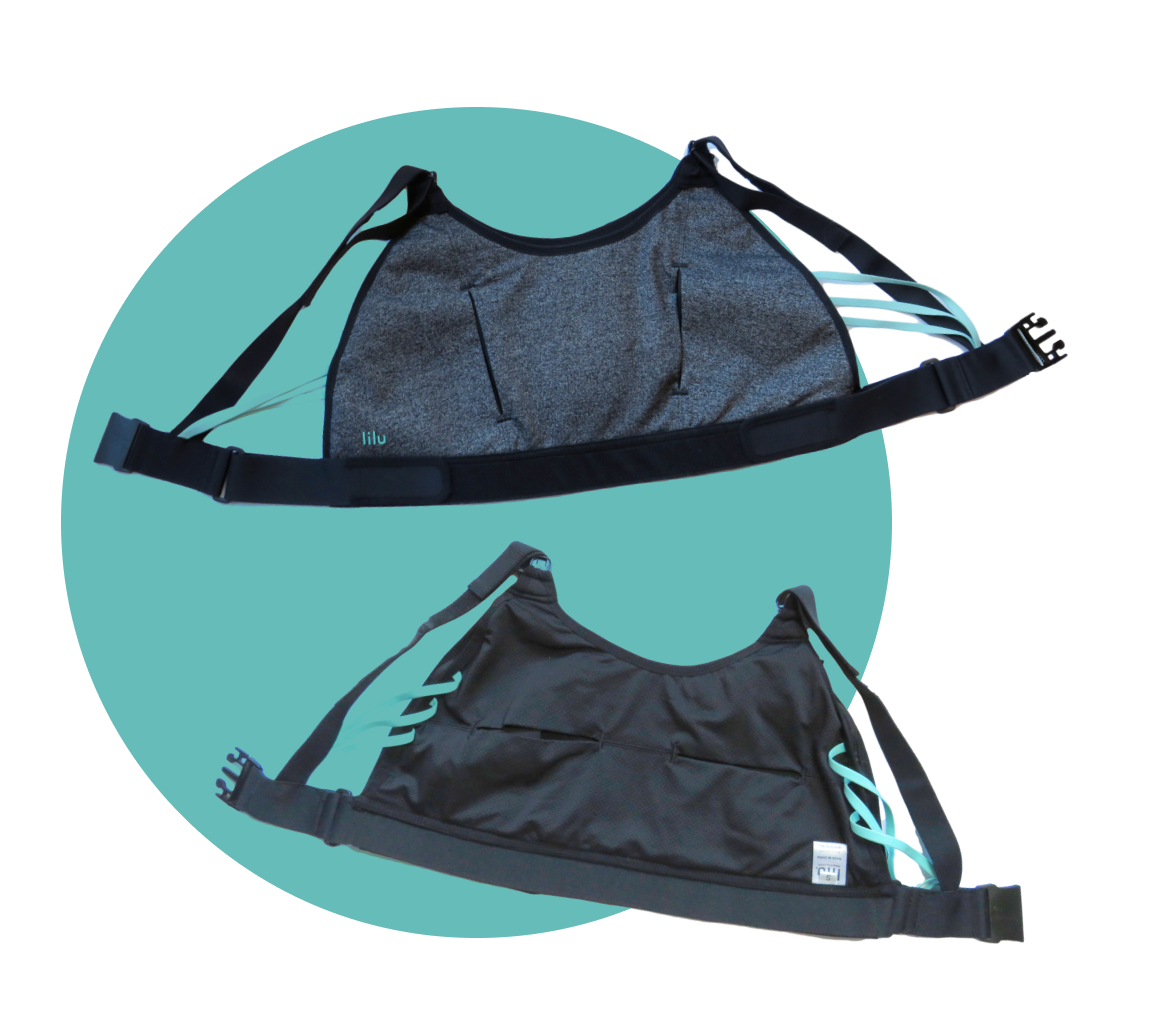 It's common for a new mom to spend 1-2 hours per day pumping (or upwards of 5 hours for moms who exclusively breast pump!)
The Lilu Massage Bra is the first hands-free pumping bra with automated breast massage that helps moms pump more milk, in less time.

By mimicking the hand motions recommended by lactation experts, the Lilu Massage Bra gives moms all the benefits of breast massage completely hands-free.
It's comfortable, adjustable, and compatible with most popular breast pumps on the market.
Custom-engineered massage cushions inside the bra compress the breast to stimulate milk glands and make pumping sessions more productive.
Moms wear the Lilu Massage Bra while pumping to:
• Pump more milk

• Decrease pumping time

• Get other stuff done and multitask while pumping (work, take care of baby, or simply relax!)

• Get the proven benefits of breast massage, hands-free

• Improve ergonomics and comfort while pumping

• Improve and maintain their milk supply
Lilu Inc. - has announced the launch of its second generation Lilu Hands-free
Pumping Massage Bra after selling out of their award winning innovation for breastfeeding moms.
This bra makes pumping truly hands-free as it incorporates gentle technology that compresses the breasts to mimic recommended hand massage while pumping sothat breastfeeding moms can pump more milk in less time.

"Think of it as a breast pump's sidekick. We had so much success with our first generation bra that we
decided to collect all the feedback we had gotten from thousands of moms and work towards making our
product even better" explains Lilu's CEO and co-founder, Adriana Vazquez.
HIGHLIGHTS:
• The Lilu Massage bra helps moms get 30-55% more milk per pumping session on average 🤱🏿
• The first version sold out in just a few months in 2020 🎉
• For many moms, it's radically changed the way they pump or saved their breastfeeding journey all together 💪🏿 💪🏾 💪🏽
• We're a female-led, BIPOC team hoping to make the world an easier place for new moms, with Lilu users now part of the team! 🧜🏾‍♀️
• We've defied the ODDS - with less than 95 latina founders raising over $1M, Lilu has managed to develop, launch and grow a D2C company with exceptional operational efficiency 🙌🏾
---
TESTIMONIALS
"I gave birth to a preemie at 30w5d. Building supply was of utmost importance. I needed something that would help massage as I pumped, since ergonomically the massaging began to take a toll on my hands (it would also free up my hands to work). The lilu bra was the only thing I saw that fit what I needed. The milk production increase was noticeable from day 1, and it is an indispensable part of every pump. I've been using it for over a year! " - KT, Lilu mama
---
---
"The Lilu bra was amazing... It definitely changed how I was able to pump when I went back to work."
Lourdes - Loma Linda, CA
"Getting the Lilu Massage Bra really made my experience hands-free. The massage was gentle, AND still helped to maximize my production."
Jennie - New York, NY
"With the Lilu Massage Bra, now I can be pumping & either working or playing with my son. And it makes the time pass so much faster."
Rosy - Brooklyn, NY
"I am obsessed with this bra."
Lauren - Los Angeles, CA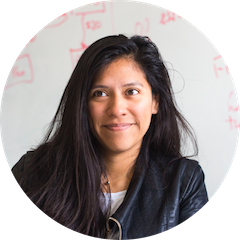 CEO & Co-founder
Adriana is a MIT alumna where she studied Math & Computer Science. After witnessing multiple friends struggle after returning from maternity leave, Adriana knew she wanted to design products to help new moms. She got her Masters in Integrated Product Design from the University of Pennsylvania where she began working on the Lilu Massage Bra.
She has been named one of the top 30 Femtech Healthcare Influencers in 2019 and has won awards such as the SheKnows BlogHer competition (2019) and the AlphaLabGear Hardware cup (2018). She has represented Lilu at SXSW, and TechCrunch Battlefield, and the Anita.B Org 2020 PitcHer where they took audience choice award.
Adriana is from Mexico City, a devout pescatarian for almost 20 years, she is an avid bicycle commuter & sort-of speaks 4 languages. In her spare time Adriana loves to run and attempting to snowboard.
---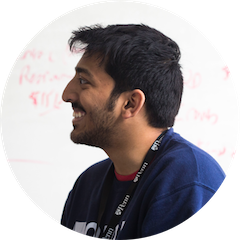 COO & Co-founder
Sujay received his BS in Electrical Engineering from Osmania University in India. After college, Sujay formed Jyothi, a nonprofit organization that provided victims of physical abuse with a platform to voice their complaints anonymously.
He then obtained his Masters in Electrical Engineering from University of Pennsylvania where he started prototyping the original Lilu Massage Bra alongside Adriana.
He spent 2 years in Shenzhen, China, vetting and working closely with manufacturers to bring the Lilu Massage Bra to market. He has represented Lilu in multiple forums, and has won awards for pitching Lilu and the importance of investing in maternal health.
Sujay is from Hyderabad, India. In his spare time he loves to sketch and enjoys playing with electronics & building new things.
---
How it all started
Adriana & Sujay met in an embedded systems (geek for robotics!) robotics class at UPenn where they were lab partners and found a common interest in healthcare and helping human kind. Both having a passion for empowering women & moms, they joined forces to create the Lilu Massage Bra. Prior to launching Lilu, they surveyed over 1000 moms, conducted countless hours of R&D, and beta tested Franken-bras with over 100 moms until they landed on the Lilu Massage Bra.
Almost 3 years later, the bra is now available and helping thousands of moms pump more milk, hands-free!
AUDIENCE CHOICE AWARD
GRACE HOPPPER - ANITA B.ORG PITCHHER COMPETITION
$20,000
1st Place
WeWork Labs Inaugural Competition
$150,000 Investment
Winner
Phillips Health Innovation Award
$5,000 Award
2nd Place Finalist
Alpha Lab Gear International Finals
$5,000 Award
Winner
Wharton Innovation Fund
$10,000 Award
Winner
NSF I-Corps Grant
$50,000 Award
1st Place
Penn iDesign
$50,000 Award
Awarded
Y-Combinator Fellowship
$20,000 Award
---